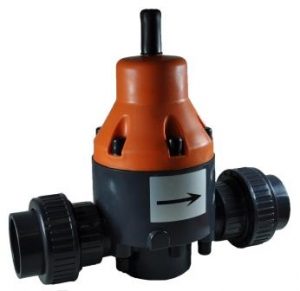 Prevent back flow and siphon flow.
Reduce wastage of chemicals.
Prevent spillage.
Lower the risk of environmental contamination.
Mounted on a tee fitting they function as a pressure relief valve.
Also known as pressure sustaining valves, these valves maintain a constant upstream pressure in the system. They are a vital component in chemical injection systems for safe and economical operation.
An adjustable spring presses onto a PTFE diaphragm. The diaphragm seals the inlet connection stopping liquid flow to the outlet of the valve. When a dosing pump is running it generates sufficient pressure in the system to overcome the pre load of the spring. The diaphragm lifts permitting flow of the chemical through the valve. The spring pressure is adjustable in the range 50KPa to 1000KPa. The spring pressure is set to suit the discharge pressure of the pump.
This valve does NOT control the downstream pressure in the system & must not be confused with a pressure reducing valve!
We supply the valve with solvent cement union ends & PTFE/PVC wetted materials. Other materials & connectors are available, please contact our sales engineers for details.