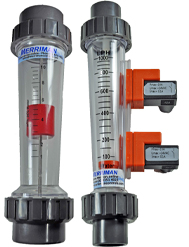 Generically known as Variable Area Flow Meters
Simple & reliable.

Give instant visual indication of flow.

Mount in a vertical position only.

Ideal for applications with clear, clean liquids, such as:

Gland seal flows.

Bearing cooling water flows.

Analyser sample water flows.

Can be fitted with switches for digital alarm outputs for high & low flow rates.

Mercon meters come with solvent cement sockets sized to suit Australian pipe.

BSP female threads are an available option.

Manufactured from durable PVC materials.

EPDM standard, or optional FPM (Viton) "O" rings.

Short tube meters have a leader rod to stabilise the float.
Long Tube Flow Meter Size & Flow Rate

Short Tube Flow Meter Size & Flow Rate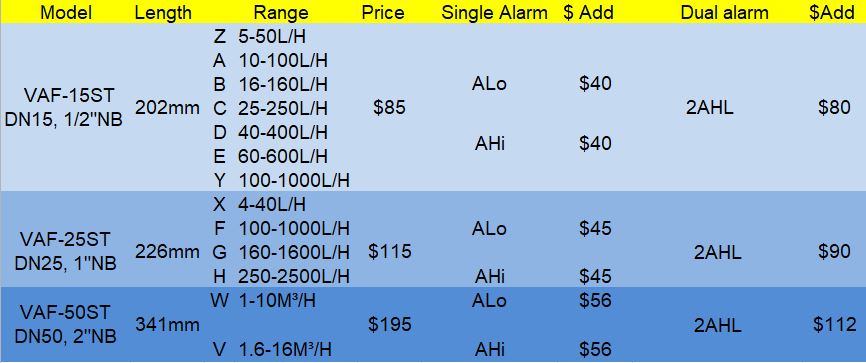 ALARM OPTIONS
ALo i

s a low flow alarm.

AHi 

is a high flow alarm.

2AHL 

is a dual alarm for low flow & high flow.

Alarm contacts are reed switches, rated at 100mA at 24VAC. Use interposing relays for high currents or voltages.
ORDER CODE EXAMPLE
VAF-25-H-S-2AHL
Is a 1″ NB (DN25) long tube flow meter, range 100 – 1000L/H with solvent socket connections & a dual alarm output for high & low flow rates.
We can offer meters in sizes up to 6″ NB (DN150) for flow ranges up to 200M³/H with flange connections & a choice of "O" ring materials. Please call to discuss your special requirements.